DELTA - Module Two: COURSE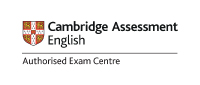 The importance of becoming the best teacher
Course description: Module Two focuses on developing your awareness of and expertise in principles of teaching English in a variety of learning contexts. The aim is to improve your teaching, planning and evaluation of learning. On the course, you will research and write essays on language systems and skills and then based on these, plan and teach lessons. During the course you will be observed by your tutors and receive developmental feedback on your planning and teaching. You will also observe your colleagues on the course. This module is assessed through a portfolio of course-based practical teaching and written assignments including one lesson and assignment which is externally assessed by Cambridge.
Module Two information: This module looks at the theory and practice of teaching and learning and the following factors:
The language learner and the language learning context
Preparation for teaching adult learners of English
Evaluating, selecting and using resources and materials for teaching purposes
Managing and supporting learning
Evaluation of lesson preparation and teaching
Observation/evaluation of other teachers' lessons
Professionalism and opportunities for professional development
Fee: 2.987,00€
Select a group and enroll
DELTA Module Two part time (face-to-face) BCN - Jeroni Granell building


Mon, Wed | 09:00-14:30 | 17/01/2024-19/06/2024

Group: B0
Teacher: Available soon
Registration: April 26th, 2023 - January 7th, 2024
Classroom: Available soon
About the course


Course content
Input sessions: The input sessions are designed to help you develop learning and teaching skills overall and in relation to the assignments.
Teaching practice: In the practical component you will teach two different levels and develop your planning and teaching with both language systems and skills.
Reflection: Through post-lesson evaluations, you will consider and prioritise the lessons' strengths and weaknesses by analysing the effects these had on learning outcomes.

Typical day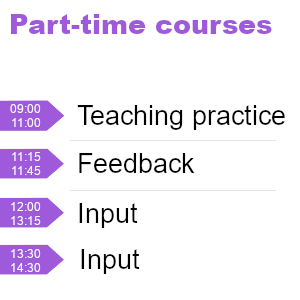 Requirements


Candidates need to...
have at least two years' experience in different contexts
be over 21 years of age
have a level of English of between C1 and C2 or above
have an initial teaching qualification or considerable teaching experience
Enrolment


To apply for this course, you will need to complete and submit the following:
Information/Open day
If you want further information please complete the More Information / Open Days form on the right-hand side of this website.
Application form
If you already have the information, and you are interested in requesting an interview, please select the group that you are interested in and complete the 'Enrolment' form. This asks for personal details, academic and work experience. We will then send you the pre-interview task and invite you to interview.
Pre-interview task
Related to language and teaching. This is to help assess your ability to analyse language and evaluate and plan a lesson based on teaching materials.
Interview
If your application is successful, you will be invited to an interview of approx. 45-60 minutes.

Once you have been accepted:
You will be informed of the result of your application within three days of your interview.
You will also be sent payment details and a course information pack.
Payment methods


Payment methods are the following:
Debit or credit card.
Bank transfer.
Payment in instalments via a bank loan.

The University of Barcelona is the top-rated Spanish university in international rankings

​Guarantee of the best tutors with many years of experience

​Flexible format allows candidates to progress at their own pace